For the average company, a $10,000 uncollected invoice means that roughly an additional $100,000 in sales must be created to make up for this lost revenue.
If you are dependent on consistent cash flow, like most businesses today, not getting paid on time can be especially problematic for you. With every dollar counting in these turbulent financial times, businesses need the help of a collection agency to get their past due customers to pay more frequently than ever.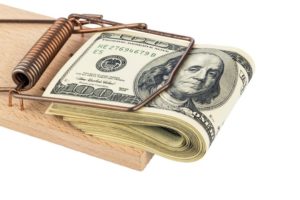 Unfortunately, the odds are against you if you're giving debtors an easy out of paying by placing them with an unlicensed collection agency. When hiring a debt collection agency, using a fully licensed collection agency is crucial if you want to actually get paid.
The Fair Debt Collection Practices Act (FDCPA), which prohibits debt collectors from using abusive, unfair, or deceptive practices to collect debt, was created so that the Federal Government could regulate the actions of "consumer" collection agencies.
In addition to being costly, the licensing process for a collection agency is rigorous and time consuming. Fewer than 5% of the more than 6,000 debt collection agencies in the United States are fully licensed.
While it requires a bit of due diligence to locate and hire a legally compliant collection agency, the consequences to your company of using an unlicensed one are numerous.
LICENSING IS THE LAW – Operating without a license is a felony in some states and your customer can use lack of licensing to avoid paying.
LICENSING PROTECTS YOU FROM A POTENTIAL LAWSUIT -Unlicensed activity by a collection agency is open it to devastating law suits filed by either the state or the consumer. As a creditor, you can be sued right along with them.
LICENSING MAXIMIZES RECOVERY -Unlicensed agencies cannot be as aggressive when collecting your accounts for fear of being reported to state regulators. In addition, your customer can use a lack of licensing to avoid paying.
LICENSING PROTECTS YOUR REPUTATION -Your customer can file complaints with the Attorney General in your state and theirs, the Better Business Bureau, and also the owners and officers of your company if the agency you hired is not licensed in their state. While agencies that collect debts from consumers without a license face severe penalties and legal issues, these negative ramifications could affect your professional reputation and hurt your bottom line.
LICENSING SAFEGUARDS YOUR MONEY -A licensed agency is up to date with all laws, regulations and licensing requirements, which often include bonds to protect the creditor. After all, having an agency collect your money is only half the battle; collecting your money from the agency is the other half.
With all of the benefit that partnering with a licensed agency provides, is hiring an unlicensed one really worth the risk?
---
Please visit Dynamic Legal Recovery's website or call us at 858-348-1780 for your complimentary evaluation.