The end of the year isn't the only time you should be cleaning out you're accounts receivables.
If you don't give your accounts receivables proper attention all year long, collections can get really messy. Even when your A/R department is running smoothly, it's important to continually and diligently audit and clean-up to ensure that your processes and cash flow stay manageable.
Throughout the year it's essential that you sweep out the clutter and unclog the stoppages in your A/R. Here are some quick tips to help you reduce your aging accounts: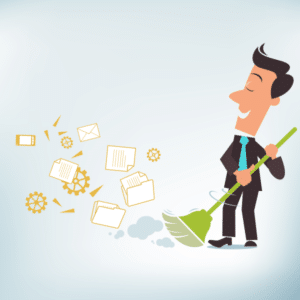 CREATE A POLICY: Every business has a credit and recovery policy, but if you don't create one yourself, your customers will do it for you. Stay in control and create a model for your company that works for you and entices customers to do business with you. Keep in mind that being too generous with credit terms can damage your own company's cash flow so it's important to strike the balance between meeting customer needs and creating a plan that allows you to walk away from business that is an unnecessary credit risk. It's best to put it all in writing and have all of your customers sign it, indicating they have accepted it.
AUTOMATE: If you are a businesses that relies on accounts receivable for cash flow, ditch paper forms and opt for automating AR and collections management business processes. Automating accounts receivable and collections process workflow is a more efficient sequence of activities that provides benefits from end to end, including faster payments, improved customer service and the freedom to focus on other areas of your business.
MONITOR YOUR RECEIVABLES: Research effective tools for actively monitoring your accounts receivable. If you're always in-the-know on how much money is tied up in receivables, you can act more precisely in other areas of your business and follow-up immediately when a payment is running late. Acting without delay will give you the best chance of collecting monies owed.
DON'T WAIT TO FIND A COLLECTION AGENCY: Your receivables policy should determine when a third-party collection agency gets involved. Often those that choose to handle late payments on a "case by case" basis, never get turned over to collections and they go unpaid, drastically impacting your bottom line and cash flow. While working with a collections agency or a lawyer is usually the final step in collecting delinquent payments from a customer, it's important to have a plan in place for your business and a collection agency in your back pocket when these situations occur.
---
Please visit Dynamic Legal Recovery's website or call us at 858-348-1780 for your complimentary evaluation.